As a humanitarian organisation we believe we play a critical role in helping underprivileged communities. By working to address the root causes of poverty and lack of opportunities, we hope to empower individuals and communities to overcome the challenges they face and improve their standards of living. Hence our solution for this is three-fold:
Through a range of programmes and initiatives, we work to alleviate suffering and provide assistance to those impacted by disaster, poverty and lack of access to essential resources. In order to maximize our impact, we employ a variety of strategies and tactics, such as fundraising, advocacy, and partnerships with local and international organizations. Through partnership, we can ensure that the resources and support provided are tailored to the specific needs and challenges faced by the community. Our ultimate goal is to create a more just and empowered environment where each person has the capacity to dream and thrive
Our goal is not just to provide immediate assistance, but to also create sustainable change. By investing in the capacity of individuals and communties, we aim to encourage them to build a better future for themselves and future generations. Through supporting community development initiatives, communities can build stronger institutions and improve the delivery of essential services such as healthcare, education and build employment opportunities.
Once we identify the strengths and resources within each community, it is education and training that enable communities to flourish and then teach others. By providing access to educational opportunities, job training and technical skills, individuals are then empowered to secure better long-term employment, improve their standards of living, and contribute to the development of their communities. Our vision is to see communities characterized by self-sufficiency and resilience.
Our Lady of Perpetual Help is a small parish located in the rural township of Padaviya in Northern Sri Lanka. The parish serves as a centre of worship and community for the local residents and overlooks the main Sunday school in the area. This parish also works closely with other schools in the region to support the educational and spiritual growth of the youth.
The main livelihood of this community is paddy cultivation and inland fishing, however, despite their hard work, they are struggling to make ends meet. The high cost of living in the area has led to a low income for many of the residents, making it difficult for them to afford basic necessities such as food and healthcare. As a result, many of the people in the community are malnourished and unable to continue with their paddy cultivation, which is a crucial source of income for them. The high prices of fertilizers and fuel needed to pump water for their crops only add to the financial burden, making it increasingly difficult for them to maintain their livelihoods.
The struggle to make ends meet in this low-income community not only affects the health and livelihoods of its residents, but also the education of its school children. The high cost of living and limited financial resources make it difficult for families to afford basic school supplies, such as stationery and shoes, for their children. This lack of access to essential educational resources can have a significant impact on the children's ability to succeed in their studies and reach their full potential.
The initial stage of this project focused on providing basic educational supplies, such as stationery and school shoes, to the school children of Padaviya, Sri Lanka. The goal was to ensure that every child in the region had access to the essential tools they need to succeed in their studies and pave the way for a brighter future. This initiative aimed to make a positive impact on the lives of young students and provide them with the support they need to reach their full potential.
The second stage of this project shifts its focus from providing immediate aid to analysing the community's livelihood and capacities. The goal is to understand the strengths and challenges of the community and develop a long-term project that will help build self-sustainability. This stage aims to empower the community to improve their own lives and create a better future for themselves. The project will take a comprehensive approach, considering the various aspects of the community's livelihood and capacities, to come up with a tailored solution that addresses the unique needs of the region.
Kokkilai is a coastal town located 350 km from Colombo, in the Northern Province of Sri Lanka. With a population of around 90 students, (School name) in Kokkilai provides education from grade 1 to O/Level with only 3 teachers. This school is facing a significant challenge in the form of a shortage of teachers. Specifically, the school does not have a mathematics teacher, which is having a major impact on the education of its students. Many of them are struggling in this subject and are at risk of failing due to the lack of proper teaching and guidance. This shortage of teachers highlights the broader challenges faced by rural schools in providing quality education to their students, and underscores the importance of investing in teacher training and support programs to ensure that all students have access to the resources and skills they need to succeed in their studies.
In addition to the shortage of teacher, this community also faces a significant challenge in the form of limited access to clean water. The high calcium levels in the area's water sources mean that the water needs to be filtered before it can be consumed, making it difficult for the residents to meet their basic needs.
In the initial stage of the project, our goal was to address the pressing challenges facing the school and community in Kokkilai. To that end, we donated a water purification filter that was installed in the school premises, providing access to clean drinking water for the students and staff. Additionally, we are funding the salary of a mathematics teacher for one year, ensuring that the students have access to proper teaching and guidance in this crucial subject. These interventions are designed to help address the immediate needs of the school and community, and to support the education and well-being of its students.
Our goal is not simply to provide immediate relief, but to work towards long-term sustainability for the Kokkilai community. To that end, we conducted a comprehensive analysis of the community and its capacity. Our research showed that there was a need for practical skills training and job opportunities for the students. With this in mind, we have decided to fund the resources needed for students to learn how to sew and produce garments. This will not only provide them with a valuable skill, but also serve as a source of income or as a means of improving the school facilities. By providing a reason for children to attend school and giving them practical skills that they can use to support themselves and their families, we aim to build a brighter future for the Kokkilai community and help ensure its long-term sustainability.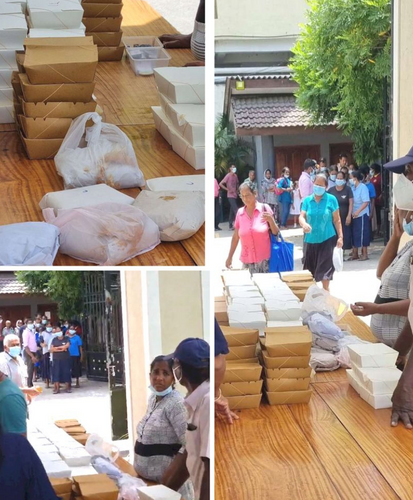 Sri Lanka has been facing significant challenges in recent times, starting with the outbreak of COVID-19 and followed by economic instability, which has had a profound impact on communities across the country. The rising cost of living has made it difficult for many people to meet their basic needs, with many unable to afford even a single meal each day. This has created a dire situation for many individuals and families, highlighting the urgent need for effective solutions to be put in place.
In an effort to make a difference and help those in need, our organization has teamed up with St. Anthony's Church in Colombo 3, Sri Lanka to provide weekly lunch packs to the homeless community. Our partnership has been successful in providing over 4000 meals to those who are struggling to make ends meet. We are proud to be making a positive impact and hope to continue our support to those who need it the most.
While providing immediate relief through weekly lunch packs is a step in the right direction, our organization is committed to finding a more sustainable solution to the issue of hunger in Sri Lanka. To this end, we are collaborating with several churches in Colombo to establish a weekly soup kitchen for school children in the area. By providing nutritious meals on a regular basis, we aim to ensure that the children have the energy and nourishment they need to grow, learn and thrive. This long-term initiative is part of our ongoing efforts to address the root causes of poverty and food insecurity in the region, and we are dedicated to making a lasting difference in the lives of those we serve.
"
Based on the situational analysis conducted, the decision has been made to fund a greenhouse project aimed at boosting the community's livelihood. The project will provide the resources and support needed to establish a greenhouse where the community can grow and sell their own scotch bonnet produce.
This will create a new source of income for the community, which will in turn be utilized for the welfare of the community itself. This project represents a sustainable solution that will not only provide immediate benefits, but also contribute to the long-term development of the community. By giving the community the tools and resources to improve their own lives, this project will help break the cycle of poverty and create a brighter future for generations to come.